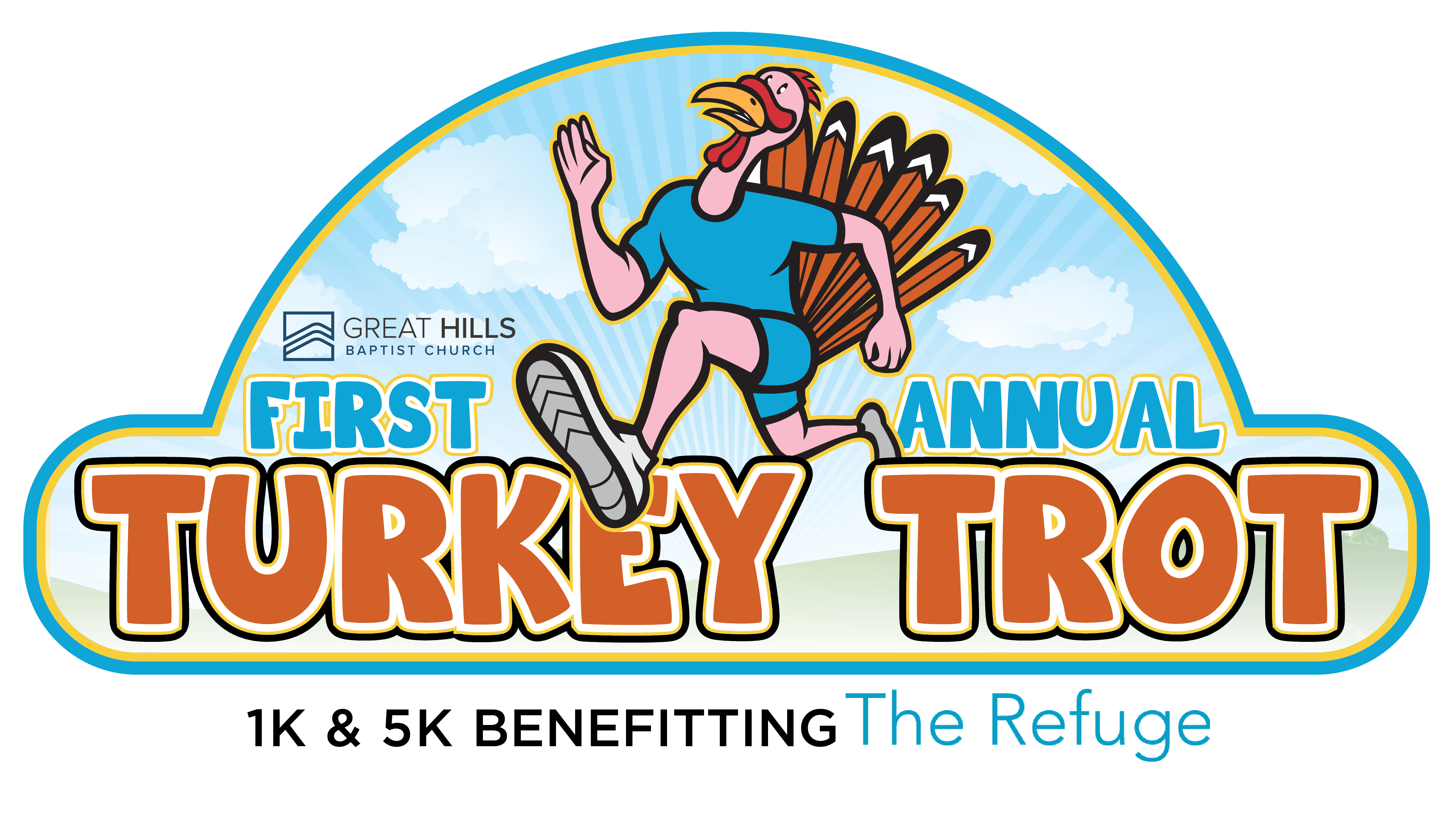 Turkey Trot 5K
Join us Thanksgiving Day morning, November 22, for the First Annual Great Hills Turkey Trot 5K and Kids K benefitting The Refuge for DMST.
The entire race takes place on the GHBC property.
The 5K course will be five loops of the Great Hills Church parking lot. The 5K is a Timed event and each participant will receive an official time.
Registrations before November 8 will be guaranteed a race T-shirt.
The KidsK starts at 8:00am and the 5K starts at 8:30am.
Race fees are:
Kids - kids up to 12 years old
Adult - 13 years and older
Through Oct 24 - $25 | Kids K $10
Oct 25 - Nov 7 - $30 | Kids K - $10
Nov 8 - Nov 21 - $32 | Kids K - $11
Race Day - 5K - $35 | Kids K $12
Proceeds will benefit The Refuge for DMST. The Refuge for DMST™ (Domestic Minor Sex Trafficking) is a registered 501(c)(3) nonprofit organization that has developed The Refuge Ranch, a long-term, residential, therapeutic community for 48 girls, minors through age 19, who have been rescued out of sex trafficking. Built from the ground up on 50 acres in a beautiful and restorative setting outside of Austin, TX, The Refuge Ranch provides trauma-informed, holistic care for the girls on site, including: a University of Texas Charter School program, a medical clinic staffed by community partners and various therapeutic programs uniquely designed for the development of a child survivor. The Refuge Ranch is the largest long-term, live-in rehabilitation facility for child survivors of sex trafficking in the United States. For more information, go to www.therefugedmst.org.
PACKET PICK UP INFORMATION
If you have registered for the race you will need to pick up your packet the day before the race. For your convenience we have set up a Drive Thru pick up station located in front of the main entrance of Great Hills Baptist Church. When you pull into the parking lot from Jollyville simply look for the YELLOW balloons. Drive up and through the portico and someone will greet you and have your packet ready for you to take home.
Pick up times for your packet are Wednesday November 21: 9am-Noon OR 5pm-8pm
If you are unable to pick up your packet on Wednesday you must be prepared to pick it up between 7:15a-7:40a the day of the race.
Get Directions
Use the map below to get directions from where you are.