Women's Ministry
The Great Hills Women's Ministry was born out of a God given desire to minister to women in all stages of life. The purpose of this ministry is to fulfill God's commandments to love Him with all that is within us and to encourage one another in bonds of love. Our goal is to connect all women so that they feel worthy in Christ, accepted, and engaged in becoming the church.
God's Holy Word is our foundation and source of abundant living as women in the Body of Christ. Connect. Encourage. Love.
Jonah: Navigating a Life Interrupted
Interruptions. They're aggravating. Sometimes infuriating. But how we handle interruptions actually tells us more about ourselves. What do we do when God interrupts our lives? Many times, like Jonah, we run! Priscilla Shirer redefines interruption and shows that interruption is actually God's invitation to do something beyond our wildest dreams. When Jonah was willing to allow God to interrupt his life, the result was revival in an entire city. Join us as we start our second Bible Study of the spring. Cost: $15
Click here to register - Wednesday, 10:00am - 11:30am
Click here to register - Wednesday, 6:00pm - 7:30pm
WORRY: the Joy Stealer
More info coming soon.
Opportunities to GIVE with Women's Ministry.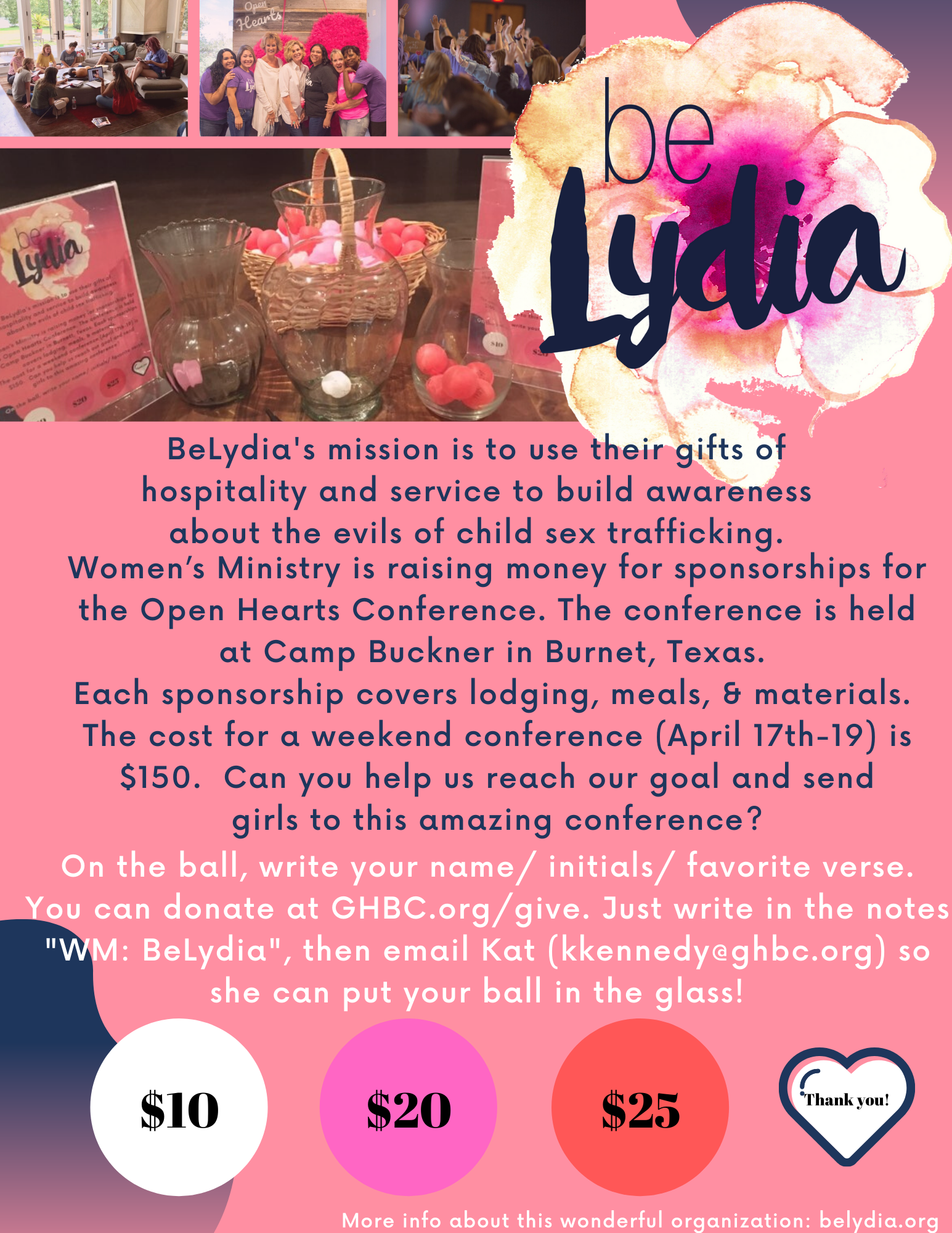 Adult Connect Group Classes
Click here for the current Connect Group Directory.
| | | |
| --- | --- | --- |
| Young Adults | | |
| Young Singles (20-35) | C242 | Brandon Pittman |
| Young Married (20-29) | C246 | Josh Stephens |
| Young Married (25-35) | C243 | Greg Bennett |
| Young Married (35-45) | C248 | Greg Shrewsbury |
| | | |
| Married / Single (40-55) | | |
| | A164 (Ladies Only) | Amy Woodby |
| | A329 | Gary Wakefield |
| | C244 | Velu Kadirvel |
| | | |
| Married / Single (55-70) | | |
| | A170 (Ladies Only) | Barbara O'Chester |
| | A331 (Single Adults) | Randy Gordon |
| | A144 | John Bailey |
| | A158 | Ron Baker |
| | A305-307 | John Murray |
| | A315-317 | Ken Farmer |
| | A168 (Single Adults) | Roy Hogan |
| | | |
| Married / Single (70+) | | |
| | A166 | James Tisdel |
| | A150 (Men only) | Art Mosely |
| | A146 | Ernie Woodby |
| | | |
| Specialty Groups | | |
| Spanish Speaking | A303 | Ramos / Flanagin |
| Adult Special Friends | A140 | Pearl Thorp |
| Foundations Discipleship | A148 | Dave Brandt |
| English as a Second Language | A160 | Cammack / McKinney / Peterson |
| Single Moms | A142 | Michelle Reid |
| Discover Great Hills (New Member Class) | C241 | Leighton Forshee |
| Portuguese Bible Study | A319 | Ademir Simoes |
| Ethopian Bible Study | A162 | |