Volunteer at Christmas at Great Hills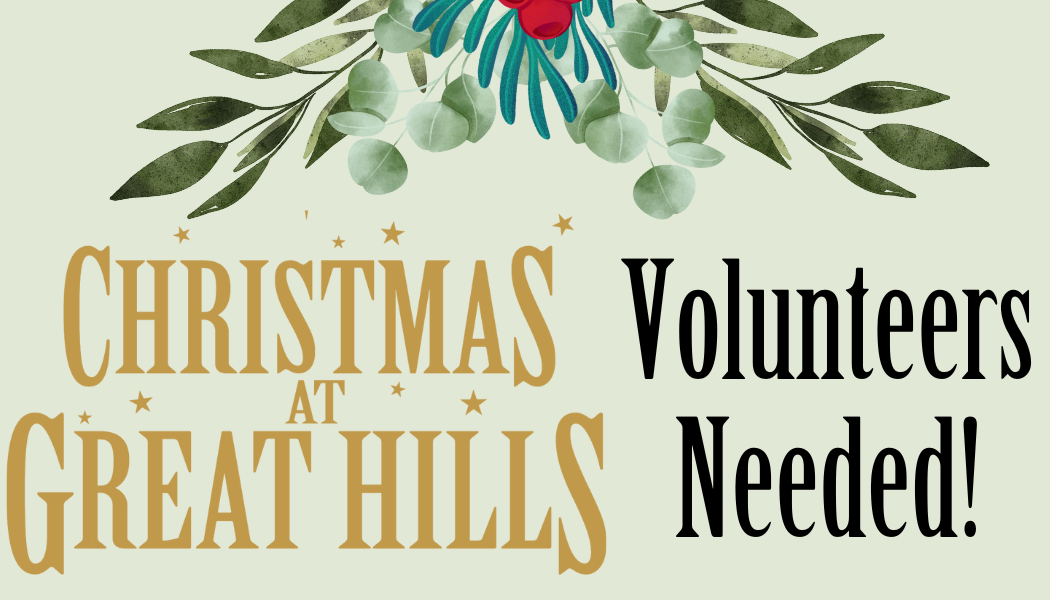 We offer KidsKare for early shift volunteers. Keep scrolling down to sign up!
Role Descriptions (More detail in the registration):
We've got many different opportunities for your different gifts & skills.
Reminder: Students 6th grade & up are invited to sign up, but will not be placed on the schedule till the student volunteer documentation has been signed & emailed to Christmas@ghbc.org. Contact Brandon Pittman for further information & documentation.

Train Station Volunteer
Seeking individuals who love Christmas and want to serve at the Train Station this year! As a volunteer at the Train Station, you will play a vital role in ensuring all our guests have a great beginning and end to their experience on the Christmas Story Express. You will assist leaders with set-up or tear-down, guest check-in, line organization, and loading and unloading trains (please note that this will include assisting guests who may need wheelchair accessibility and support). You will also help engage guests as they wait in line, maintain a positive and cheerful atmosphere, and answer any questions or concerns. No previous experience is required and training is provided. Come help us conduct people aboard the Christmas Story Express!
Food Team Volunteer
Friendly and hardworking volunteers are needed to join the Food Stations team! As a volunteer at the Food Stations, you'll assist in providing free food and drinks to our guests. The main responsibilities will include: 1. Setting up and organizing the tables, arranging food items, and ensuring everything is clean and presentable. 2. Assisting with food distribution by welcoming everyone who comes by, offering a friendly smile, and letting them know about the food and drink options. 3. Serving popcorn, cotton candy, wassail, or hot chocolate, ensuring that everyone is served with dignity and respect. 4. Keeping supplies and food inventory stocked and restocking as needed. 5. Maintaining cleanliness and hygiene standards by keeping the food stations tidy. 6. Offering support, a listening ear, and words of encouragement to those who may be going through challenging times. No previous food service experience is required, and training will be provided– all you need is a compassionate heart and a willingness to engage others with a smile.
Prayer Team Volunteer
God loves to hear His children pray! This year our "Prayer Chapel" team for Christmas at Great Hills would love to have you join us to serve in a special way to our guests. We welcome you to join us as volunteer servants and pray specifically for handwritten prayer requests given by our guests each night. There will also be opportunities to engage with guests as they share prayer requests in person and encourage them through the power of prayer. Our prayer leaders will be available to lead you each night under the outdoor "prayer chapel." Join us under the canopy of lights each night to bring a special gift of prayer for others at Christmas time! Training and supervision will be provided.
Parking Team Volunteer
A parking lot volunteer is the first contact that a guest receives! Your job is to provide clear guidance about where to park and ensure the safety of all people and vehicles in the parking lot. This position requires the physical ability to move about and stand for the duration of the time you serve. It also requires good nighttime eyesight since the majority of parking will take place after dark. Some Key Responsibilities include: Greet everyone with a smile and lots of enthusiasm. Ask, "How can I help you?" You'll share your knowledge of the parking lots & be able to give guidance and direction as needed. Be alert to problems of any kind. Have Fun! Depending on your time assignment, plan to help with set up or tear down parking lot materials.
Set up & Strike Team Volunteer
Set-up Crew volunteers will play a major role in the presentation of the event by delivering necessary components (such as decorative props and tools) from storage to their respective stations to be used throughout the night. Strike Crew volunteers will be responsible for returning these contents to storage in an orderly fashion so the following crew can get the materials delivered to these stations again the following day. Additionally, Set-up & Strike Crew members will serve as flexible support prepared to assist with any unexpected last-minute tasks needed for setup and disassembly.
Set-up & Strike Crew is the most flexible volunteer role at Christmas at Great Hills allowing members to assist with setup and/or disassembly at any time before 5:30 PM and after 10:30 PM as they are available. Serving as a member of strike crew is also a great fit for anyone seeking a role that allows them to be active and mobile as you travel across campus delivering resources and accomplishing miscellaneous tasks that keep the event running efficiently.
Bounce House Volunteer
Are you ready to bounce into an exciting volunteer role? As a Bounce House Volunteer, you will have the opportunity to bring joy and laughter to children and families while ensuring their safety and creating a memorable experience. You will be responsible for overseeing the operation of the bounce houses. Key Responsibilities will include Safety Supervision: Monitor and maintain a safe environment within the bounce house area, ensuring participants adhere to safety rules and guidelines, Equipment Inspection: Conduct regular inspections of bounce houses before and after each use to identify any potential issues or hazards. Report maintenance or repair needs promptly, Participant Assistance: Assist participants in safely entering and exiting the bounce houses, providing guidance on safe play, Queue Management: Organize and manage lines of participants waiting to use the bounce houses, ensuring a fair and orderly rotation, Customer Service: Provide friendly and helpful guest service, addressing questions/concerns, and helping people feel welcome at Great Hills! This role does require up to date Ministry Safe Training and background checks which we are happy to provide in advance.
Photo Booth Volunteer
We are seeking volunteers to join us in the Photo Booth Station! As a volunteer at the Photo Booth, you will be interacting with people of all ages and giving them an opportunity to remember a fun-filled night! Your main responsibilities will be staying by the iPad and ring light setup to make sure people know where to look for their photos and retaking pictures if they desire to have a different one. You will also help them navigate how to text or email the photos to their device. We also ask that you would be warm and welcoming, having initiative to invite people in by asking them if they would like their picture taken. This is a great opportunity to get to know guests and give them a memory they can frame in their home! We will also have props and decorations to make the set up fun and festive! As the night goes on, props and setups will get knocked over, so fixing those as needed as well.
Info Table Volunteer
Come serve at our Christmas at Great Hills Information Table! You will be the first folks our guests will see at the event, so happy and outgoing people - this is your place to serve! Guests will come to us to find attractions, like the train or petting zoo; to find food trucks and cotton candy and popcorn stands; and, of course, to find the restrooms! You will get to bring your best customer service skills as we sell "Christmas at Great Hills" shirts and goodies! We will also answer questions about ministries we offer, worship and Connect Groups, and other questions pertaining to our church, all in an effort to CONNECT our community with Christ and GHBC. If you love to serve Jesus by serving people, join this team! Ages 18 and over, please.
Welcome Team Volunteer
Join our Welcome Team as we greet guests coming on to our campus with warm smiles & cheerful dispositions. Volunteers can expect to provide directions to guests navigating the event & answers to questions as you are able. Some of our team will also roam the grounds in pairs looking to engage individuals in gospel conversations. The Welcome Team is an essential aspect of Christmas at Great Hills so if you love talking to others, making people feel special & sharing the love of Christ, we need you on our team!
Food Truck Volunteer
Where better to serve during Christmas at Great Hills than at our Food Truck Court?! Volunteers will help guests make selections from menus, point out popular dishes, provide assistance to those in need of an extra hand, & help keep the Food Truck Court clean. Volunteers can expect to work in teams to make the workload light. If you like food & making conversation over tasty treats this is the place for you to serve this year!
Petting Zoo & Face Painting Volunteer
All roles are filled for the Petting Zoo times. Thank you! But keep scrolling!
Media Team
Christmas Star Operator: This person will use a very simple remote control to move a motorized star leading the train from the nativity scene to the wise men and Jesus' childhood home and back again to reset. Coordinating the timing of the train leaving the nativity to make sure the passengers see the star early and experience the wonder of following the star, as the wise men did.
Marketplace Operator: This person will operate a computer based system to trigger a sequence of sound and lighting cues coordinated with the live actors in the miracle market scene.
Tomb Operator: This person will operate a 2 step sequence including a smoke machine, light, and earthquake sound effect to accent a Jesus actor exiting the tomb alive as the train approaches
Great Hall Operator: This person will manage the live sound of the handbells and other playback media for Great Hall entertainment as attendees sit to eat and enjoy. They will also assist staff outside with stage needs.


We need you to join our Acting Team! Click the image above to sign up!
There is a need for children (ages 8-12), students, and adults of all ages.
Additional Rehearsal & Fitting Dates:
Additional Rehearsals: 12/5 & 12/6
If you have additional questions, contact our team at Christmas@ghbc.org.
We are so excited for you to join us this year!
Another opportunity to volunteer!